Global Perspectives On The Islamic Creative Economy
September 27, 2017 @ 9:00 am

-

12:30 pm

Free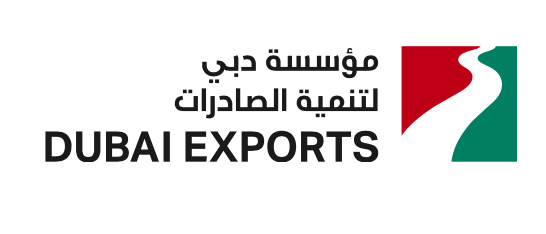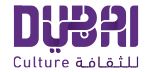 The Australian Arab Chamber of Commerce & Industry in partnership with Dubai Exports, the Dubai Islamic Economy Development Centre and the Dubai Culture & Arts Authority present this exciting event.
You're invited to AUS:DXB, a series of events designed to nurture conversation, creativity, ideas & trade between the Dubai & Australian government & cultural institutions, organisations & creative industries.
Chief Guest
The Hon Robin Scott
Minister of Multicultural Affairs VIC
Welcome by
Asad Ansari
Deputy Chairperson, The Islamic Museum of Australia
Launch Presentation by
Arwa Al Qassim
Museum Specialist, Dubai Culture & Arts Authority
on the publication:
Global Perspectives on the Islamic Economy
The 'Global Perspectives on the Islamic Creative Economy' book is a non-academic study by Dubai Culture (part interviews/part survey results), that is part of the rising interest in the creative economy among city managers and cultural organisations.
Join a multi-disciplinary panel of local & international experts
exploring Islamic arts & culture across government, museums and creative institutions.
Panel Members:
Peter Gould
Design Executive Officer, Zileej
Subhi Bora
Creative Individual, The Modest Bride
Glynis Jones
Curator, Powerhouse Museum
Padmini Sebastian OAM
Board Advisory, Islamic Museum of Australia
Arwa Al Qassim
Museum Specialist, Dubai Culture & Arts Authority
Saeed Kharbash
Head of Strategy & Planning, Dubai Islamic Economy Development Center
Please RSVP by
Wednesday 19 September, 4:30 PM.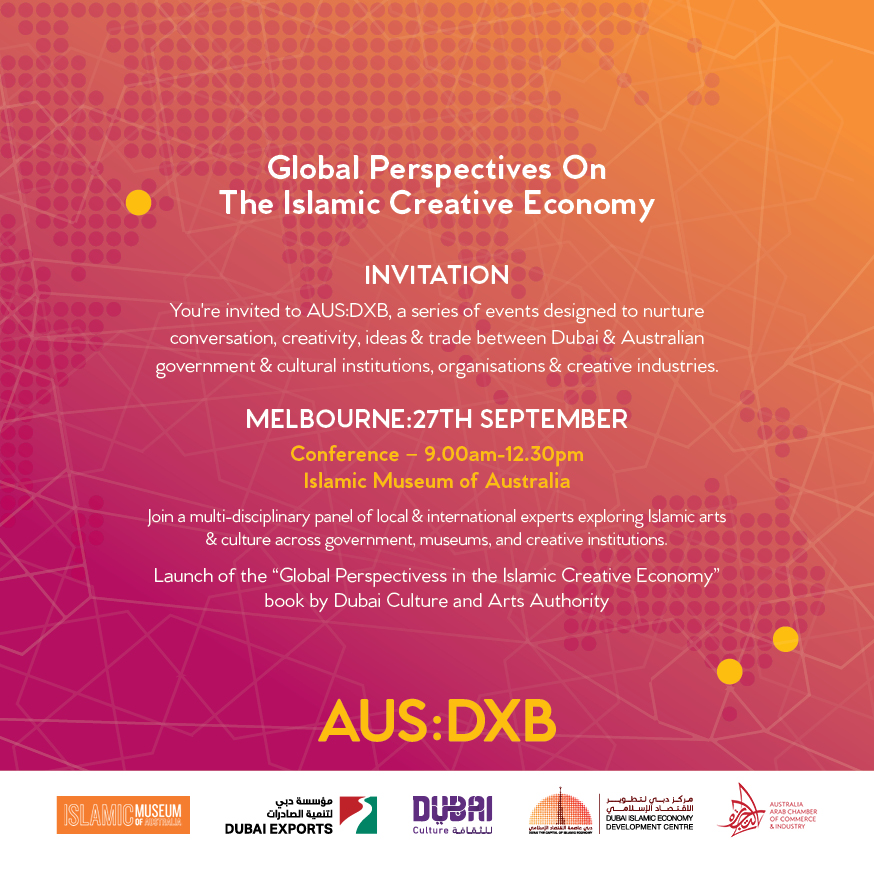 For any enquiries, please do not hesitate to contact:
Mobinah Ahmad
NSW Executive Officer | Australia Arab Chamber of Commerce & Industry
0432 608 350 | mobinah.ahmad@austarab.com.au
Said El Saadi
VIC Executive Officer | Australia Arab Chamber of Commerce & Industry
0450 044 444 | said.es@austarab.com.au
Barbara Haggerty
VIC Executive Officer & National Events Coordinator |
Australia Arab Chamber of Commerce & Industry
0409 775 001 | barbara.haggerty@austarab.com.au
About Dubai Culture & Arts Authority
Dubai Culture & Arts Authority (Dubai Culture) has grown to play a major role in the realisation of the Dubai Plan 2021, highlighting Dubai as a thriving capital for creative industries and further embedding the Emirate's credentials as a city of happy, creative and empowered people.
As part of its mandate, Dubai Culture has several initiatives that are focused on strengthening both the historic and modern cultural fabric of Dubai, including Dubai Art Season, the city's premier umbrella arts initiative which kicks off with Emirates Airline Festival of Literature and encompasses Art Week including Art Dubai, Design Days Dubai, and SIKKA Art Fair – an annual event aimed at promoting Emirati and local artists in the UAE and the wider GCC region. The Authority also manages the Dubai International Arabic Calligraphy Exhibition, which showcases an evocative blend of artworks to celebrate the myriad facets of Arabic calligraphy; Dubai Festival for Youth Theatre, an annual festival that fosters the art of theatre in the UAE; and Dubai Next, a dynamic platform that aims to showcase the
Emirate's cultural ethos and vibrant creative scene on the global stage.
The Authority's other key initiatives include Creatopia (www.creatopia.ae), which is the nation's first government empowered virtual community for cultural and creative communities in Dubai, and was launched to encourage the exchange of ideas and the refinement of skills while ensuring ease of doing
business within the creative industry.
Web: www.dubaiculture.gov.ae
Facebook: www.facebook.com/DubaiCultureArtsAuthority
Twitter: @DubaiCulture
YouTube: www.youtube.com/user/DubaiCulture
Instagram: @dubaiculture
LinkedIn: https://www.linkedin.com/company-beta/6043316/
About Dubai Exports
Dubai Exports is an agency within Dubai Department of Economic Development Government of Dubai. Dubai Exports strives to ensure the success of the exports sector in Dubai and the UAE. We develop long-term growth strategies to help businesses expand and maximise their opportunities given by Dubai's unique position as a natural trade gateway between the East and the West.